Nana Tubman Honored, Ghana West Africa

GHANA INDEPENDENCE JOURNEY - LOVE WARRIOR WOMEN, KINGS AND MYSTICS
You Will Experience:
The historic Independence Year Enstoolment of a Regional Asante King,
Br. Sam Mensah * The Queen Motherhood Enstoolments of the great
ancestralist, Dr. Sonia Sanchez and Nana Tubman Honor in Ghana
Founder, Linda Cousins-Newton - Ancestral festivities officiated
by Nana Osei Boakye Yiadom II, one of Ghana's first female Chiefs
Nana Harriet Ross Tubman Davis' Statue/Street *
Adamarobe, Akuapem traditional village *
Kente Weaving Village of Bonwire *
Adinkra Village of Ntonso *
KUMASI, including the renowned mystical shaman,
Okomfo Anoyke's sacred sword *
Kwame Nkruman Memorial Park *
Akan Stool Carving Village of Ahwiaa *
Ashanti Cultural Center *
Village of the powerful freedom leader, Nana Yaa Asantewaa *
Nana Tubman Youth Club festive welcome in Ofoase *
Slave dungeons at Cape Coast and Elmina Castle *
W. E. B. DuBois Center for Pan-African Culture *
Ancestral story sharings in honor of Independence
year of Ghanaian/African-American freedom contributors
Accommmodations at the lovely Novotel and Royal Basin Hotels
$2,999 per person (double occupancy) - ($2,599 (children under 12
sharing a room with two adults).
Rate includes airfare, transfers, tours, hotel stays and meals
(excluding dinners and gratuities).
Send your $300 deposit ASAP to ensure your place on this historic journey.
Full balance due by July 18.
Name_______________________________________________
Address____________________________________________
City____________________________________ State___________Zip______________
Mail to: L. Cousins-Newton, Ancestral Promotions, 593 Vanderbilt Ave.--#189, Brooklyn, NY 11238
For further information, call: 718-398-8941 or 718-523-3312
Coordinated by John Watusi Branch, Director, Center for Culture/The Afrikan Poetry Theatre and Linda Cousins-Newton, Director, Ancestral Promotions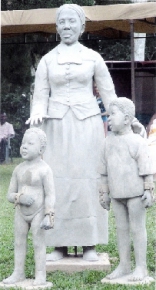 DVD/VHS available of the herstoric NANA TUBMAN HONOR IN GHANA JOURNEY, including the
regal street naming/statue unveiling ceremony in Aburi, Ghana, on August 15, 2005. $26.99
postpaid - DVD; $23.99 - VHS. Send remittance to the above-given address or call 718-398-8941 for further information.