Tubman's Legacy Honored
By CHRIS LAVENDER
Staff Writer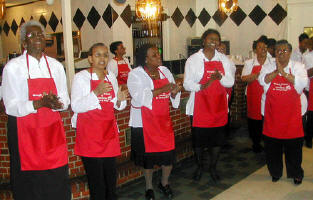 CAMBRIDGE — Harriet Tubman's legacy was honored Friday night during an annual banquet held at the Dorchester Elks Lodge on Pine Street in Cambridge.
About 160 people attended the banquet sponsored by The Harriet Tubman Organization, Inc.
"We are doing all we can to keep Harriet Tubman's legacy alive," Evelyn Townsend, HTO Vice President said. "Thank you all for being here."
Tim Quinn, a Democrat who is running for the House of Delegates 37B seat, also attended the banquet Friday night.
"Harriet Tubman had courage," Quinn said. "She had to be afraid many many times. I respect her for her courage."

During the banquet, members from the Waugh Gospel Choir sang spiritual hymns and the Moves of Praise dance team performed several dances as well.
Tubman was born a slave on the Brodas Plantation in Dorchester County. When Tubman was age 13, she was struck in the head with an iron weight while helping a run away slave.
In 1857, Tubman led her parents to Auburn, New York where they spent their remaining years in freedom. She rescued all of her family members except one sister.
During the Civil War, Tubman served as a scout and nurse for the Union Army. She helped to free more than 750 slaves during one mission.
After the war, she returned to Auburn where she established The Harriet Tubman Home for the Elderly and Indigent Negroes. Tubman was known as the "Moses" of her people.
On Friday night, Diana Thompson, keynote speaker, honored Tubman's memory.
"She grew up on the Eastern Shore," Thompson said. "She lived a rich and full life and we are here to celebrate her." Thompson said the "fruits of her labor we do reap," Tubman "fought for women's rights," and she was a "true humanitarian."
In her speech, Thompson added Tubman "believed in herself," "relied on the assistance of networks in the underground railroad," and "had a profound belief in God."
After Thompson's speech, Rev. Enez Stafford Grubb stood with Donald Pinder, HTO President, and Townsend at the front of the room. Grub thanked Townsend for serving as HTO President. Townsend then passed a gavel to Pinder. Pinder said he looked forward to serving as HTO President.
"I am very happy to do this," Pinder said.

Courtesy The Star Democrat Star Democrat photo by Chris Lavendar
---

Thank you Letter
Hello Vivian,
My family wanted me to thank you so much for the tickets to the Harriet Tubman Banquet Saturday. My mother, especially said to send thanks from the Talbot County, and Caroline County families. My mother is Bernice Ross Carney, my sisters are Patricia Hawkins of Salisbury, MD, Mable Carney of Denton, MD, Valerie Felton of Easton, MD and Judy Ross of Columbus, Ohio. I have an aunt Betty Ross of Easton, MD, her children are Sharon Ross, Lisa Ross, of Denton, MD and Jacqueline Ross and Brian Ross of Easton MD. They said it was a very big turn out. The subject of the newspaper article was mentioned and the speaker advised "buy the book and read it for yourself". we are in the process of composing a letter to the editor of the news paper to express our point of view. Also, Pat Hawkins wanted me to thank you for her package, she was so excited when she received it, she's ready to get busy
The Ross Family (Descendants of Harriet Tubman's Family)